Catherine Johnson – Writer
Catherine's debut play, Rag Doll won the Bristol Old Vic/HTV West play-writing competition and was staged at Bristol Old Vic. Further plays for Bristol Old Vic include Where's Willy?, Renegades, Too Much Too Young and most recently Suspension, in 2009. Catherine has written extensively for The Bush in London, including Dead Sheep, Little Baby Nothing and Boys Mean Business, as well as Shang-a-Lang, originally performed in 1998 and directed by Mike Bradwell – then artistic director of the theatre. Catherine has also written for the National Theatre's Connections – an annual festival of new plays for youth theatres and schools – she wrote Through the Wire in 2005 and Letter to Lacey, about domestic violence in young adult relationships, which will be included in the 2014 series.
Her television work includes Casualty, Love Hurts, BBC2 teleplay Sin Bin and Love in the 21st Century for Channel 4.
Catherine is best known as the writer of the stage musical Mamma Mia! and of the screenplay for the 2008 film. The musical continues to run and is now in its 15th year in London's West End and its 13th year on Broadway, as well as touring internationally.
Catherine sponsors The Catherine Johnson Award for Best Play written by the five Pearson Playwrights' Scheme bursary winners from the previous year; Catherine herself won a bursary from the scheme in 1991. Catherine is a patron of the Wotton Electric Picture House in Wotton-under-Edge and Bristol's Myrtle Theatre Company.
Robert Wolstenholme – Director
Robert studied directing at Drama Studio, London and on the National Theatre Studio Directors' Programme.
For Signal, he has directed A Place at the Table (Tristan Bates), The Night Before Christmas (Hen & Chickens/Bike Shed, Exeter), Here (Tristan Bates) and Private Lives (Canal Café) all of which he also co-produced.
Other directing includes: Brotherly Love (Counting House, Edinburgh), Gilbert is Dead (Hoxton Hall), One Minute (Courtyard), Guerilla/Whore (Tabard), The Unattended (Gilded Balloon, Edinburgh), This to This (Union/Colour House), If No One Loves You, Change (King's Head), Bash (Hen & Chickens), Closer (Landor), Road (Croydon Clocktower), Love & Understanding and Can't Stand Up For Falling Down (Etcetera), Octopus Pie (Landor & Edinburgh), Dracula (Drayton Court), Mother Tongue (Oval House), Sleeping Nightie (White Bear), The Razorblade Cuckoo (Link Theatre); Can You Keep a Secret? and Was He Anyone? (Croydon Youth Theatre); the shorts The Boy Who Never Learned to Fly (Arcola), Opportunity of a Lifetime (Pleasance, London), The Sky Above, Soyuz 40 and wltm (Southwark), Gift (King's Head) and A Snow Scene (White Bear); numerous rehearsed readings including for the Bush, the Finborough and Old Vic/New Voices, and at the Actors' Centre, SOAS and Soho Theatre for Amnesty International.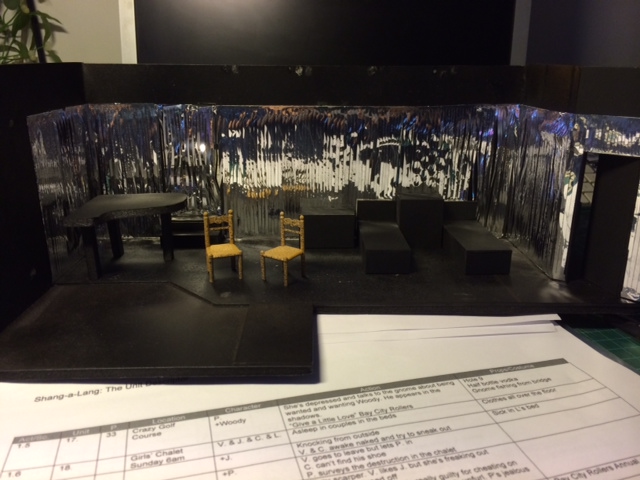 Christopher Hone – Production Design
Chris studied theatre design at Nottingham Trent University.
For Signal, he's designed Here and A Place At The Table (Tristan Bates).
Other theatre includes: Tosca (Soho), The Great Gatsby (King's Head/Riverside), A Tale of Two Cities, Quasimodo and Two Caravans (King's Head), Coyote Ugly and The Time of Your Life (Finborough), The Lesson, Vincent in Brixton, Romeo and Juliet, A Taste of Honey, Hamlet, Gawkagogo Freakshow, Hedda Gabler and Othello (international tours), One Minute (Courtyard), Guerilla/Whore, The Mikado, Pirates of Penzance, Cinderella, Just So and Stiffed! (Tabard), Dorian Gray and Romeo and Juliet (Leicester Square), Gilbert is Dead (Hoxton Hall), Rip Her to Shreds (Old Red Lion), Vegasm and Hutch (Riverside).
TV includes: the complete studio re-design of QVC (twice), Big Brother, Celebrity Big Brother, Hollyoaks and numerous television and internet commercials and virals.
Seth Rook WIlliams – Lighting Design
Seth studied lighting design at Wimbledon College of Art.
Credits include: Operation Crucible (Finborough), The Great Gatsby (Riverside), Idiot-Syncrassy (European tour), Bitch Boxer, Bound and Boris & Sergey (national tours), You and Me (international tour), Where the White Stops (Bush), Vieux Carré (Charing Cross Theatre), A Tale of Two Cities and Two Caravans (King's Head) and Tosca (Soho).
Seth also works regularly at The Place, Euston.
Neil McKeown – Sound
Neil has been producing music for 15 years, recently concentrating on sound design and composition for theatre.
Credits include: Say Your Name and Theatre Uncut (Arcola Ala-Turka at the Arcola), The Door (Park Theatre), A Merchant of Venice and Mandrake (Brockley Jack), Iron (Old Red Lion), Mare Rider and When the Bulbul Stopped Singing (Arcola), Talimhane (Arcola, Istanbul) and sound director for the Olivier nominated immersive production You Me Bum Bum Train.
Dan Phillips – Production Manager
Dan graduated from Dartington College of Arts in Theatre and Arts Management before starting his own company, directing productions including the Welsh premieres of John Cameron Mitchell's Hedwig and the Angry Inch and The Last Five Years by Jason Robert Brown.
Dan has written a number of short plays and educational films about theatre as well as a book My Desperate Cling to Youth.
He recently completed an MA in theatre directing at Mountview.
Kate Schofield – Company Stage Manager
Kate studied at Warwick University and trained at LAMDA.
Stage management includes: Billy the Girl (CleanBreak/Soho and prison tour), Address Unknown/ Inconnu A Cette Adresse (Soho), Pastoral (Soho/Hightide Festival), Purple Heart, The Prophet, The Measles, Franziska and Herakles (Gate), Jack and the Beanstalk (Pomegranate, Chesterfield), Missing (Gecko at Dance East, Ipswich), His Teeth (Only Connect), Lilies on the Land (Wolsey, Ipswich), Cinderella (Lighthouse Theatre), The Comedy of Errors and The Importance of Being Earnest (Oxford Shakespeare Company), Blackbirds and The Sirens of Titan (London Bubble), The Southwark Mysteries (Southwark Cathedral), Anansi: An African Fairytale (Southwark Playhouse).
Sarah Hetherington – Costume Supervisor
Tim Charrington – Accent Coach
Nick Pomeroy – Production Photography